Join EsPerTo!
Be part of the network of young people who are committed to creating a world in which education and training are accessible to all.
Areas
Upbringing
We participate in the organization of expert courses carrying out a marketing campaign, managing the logistics for their implementation, selecting tutors and monitoring members.
Information
We manage requests for information from students interested in continuing their studies in Turin (in Spanish) and take care of the guide on our website, updating and integrating its contents.
Innovation
We create and organize innovative projects aimed at young students, taking care of the design, planning, implementation and monitoring of the progress.
Communication
We collaborate in the management of our social channels creating graphic material and content and organizing events.
Culture
We organize activities and events with current issues and interests for young people.
Benefits
Participate in volunteer projects for students
Make an enriching experience in a multicultural youth group
Use your skills and potential to realize expert projects
Develop your skills professionally and personally
Learn more about education and inclusion
Put your ideas and initiatives into practice
Competitively strengthen your bilingualism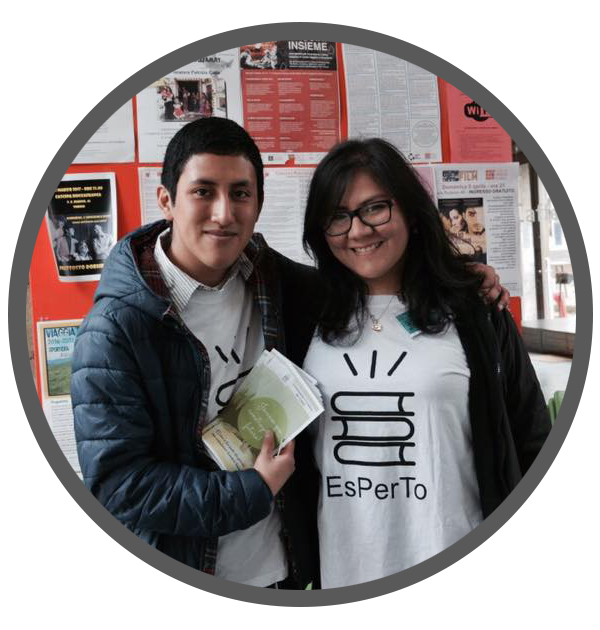 How to participate
Send your application for registration
An expert manager will contact you to arrange an informative meeting with you to better know your interests and choose the working group to attend
Then, fill in the registration form to an expert member and pay the membership fee
The membership fee is 2 euros and it is valid for one year from the moment of registration. The membership fees allow you to support the activities and projects that expert realizes non-profit.
Follow us on Facebook
EsPerTo
Associazione Estudiantes Per Torino - EsPerTo è una rete di giovani che, condividendo le proprie espe
Follow us on Instagram